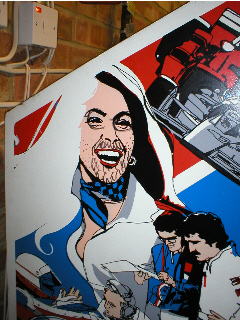 Graffiti.
As with alot of old Arcade games, idle teenagers find it fun to mutilate them and if they are not pulling off sideart, they are drawing over the top of it !
On this cab the only bit that let it down was this, where some idiot had given the smiling woman, glasses and a beard. Where i am a printer by trade, i have alot of solvents a chemicals at my disposal. I started with regular grade A white spirit and a soft cloth and worked in circles, this didnt make much difference, so after giving it a wipe over with plain water, i tried something else.
WORD OF WARNING !! I do not advise anyone else try using solvents on their cab sideart, in case it removes the side art too !
I got Delta metering roller cleaner, something i know is good for removing ink but not paint, and it has a high evapouration rate. This i tried right at the bottom corner of the cab, right at the edge, just to make sure it didnt cause any damage. When this was o.k. i then tried it on the graffiti, again working in circles. This i would do for a minute at a time and then i would use a sponge with just water on to finish off. This i found got 99.9% of it off, so at least it looks better now.